Counselling
The Mission of the GEMS Founders counselling program is to prepare culturally competent students through the design and implementation of data-driven comprehensive school counselling programs that benefit and support the academic and social-emotional development of all students.
GFS aims to ensure positive mental health to all students and encourage them to reach their full potential by providing a counselling program that is comprehensive, preventive in design and developmental in nature. We thrive to work in an accepting, non-judgmental, and confidential manner with an emphasis on solution-focused techniques.
Professionally trained school counsellors provide a safe and nurturing approach to all students to introspect their barriers, challenges and support them with practical skills needed to overcome any issues. We provide a variety of services based on student needs. Some services are universal and offered to all students while the other services are targeted toward smaller groups of individuals and some others are only provided to a few students with a higher level of need. We also play a vital role in safeguarding the human rights of all school community members. By partnering with different members of the GFS community, our counsellors work to ensure that all students are academically, socially and emotionally prepared to become empathetic and balanced individuals of the global community.
The GEMS Founders school counselling program focuses on 5 guiding values:
Constructivist Practice:

Consider the experiences, values, and multiple identities of the students we work with as the foundation from which to facilitate learning, development, and wellness.

Evidence-based Best Practice:

Implement practices and strategies drawn from the best available research and data on the school counselling profession.

Reflective Practice:

Promote self-assessment, peer-assessment, and critical examination of the efficacy of one's own practice as essential for the continuous improvement of school counsellors.

Professional Commitment and Responsibility:

Demonstrate dedication and accountability to the vocation of school counselling through professional, passionate, lawful, and ethical behaviours.

Professional Relationships:

Maintain high expectations for ourselves, our colleagues, and our students, while respecting diversities of background, experience, opinion and perspective; and working collaboratively to support one another.
Goals of school counselling:
Provide a safe and nurturing environment.

Provide short-term counselling or crisis intervention.
Promote growth, self-awareness, and an appreciation for global diversity.
Facilitate students' growth and development within the domains of social, emotional, personal, and academic development.
Demonstrate cultural competence and responsiveness with all students and their families
Develop, implement, and evaluate a comprehensive school counselling program aligned with KHDA guidelines
The School Counsellors assist with:
Helping children to build resilience

Child Safeguarding and Child Protection

Social emotional support

Trauma

Bullying issues

Self-regulation (anger, anxiety, stress)

Improving social skills

Supporting students with exam-stress and friendship/relationship issues

Relocation issues (moving school or countries)

Providing support to families and teachers to best enhance a student's growth

Providing referrals to school and community resources that treat mental health issues (Depression, violence, abuse etc.) with the intent of removing barriers to learning and helping the student return to classroom.
Counselling session:
All counselling sessions will last for 45 min in the counselling room.

Students referred will be eligible for 6 sessions for 45 min / 12 sessions for 20 minutes.

Scheduled appointment at a convenient time for the students to ensure their learning is not impacted

Counselling services tries to meet the needs of all students but there may be times when there is a huge demand on the service and this may result in waiting list, until and unless it is a safeguarding concern who will be able to avail immediate support.

There will be a review of sessions after 6 weeks if there are no progress with school counselling sessions then an external referral will be suggested for further support.

Open door access - Pupils also have access to walk-in to the counseling office anytime during their break to self-refer themselves.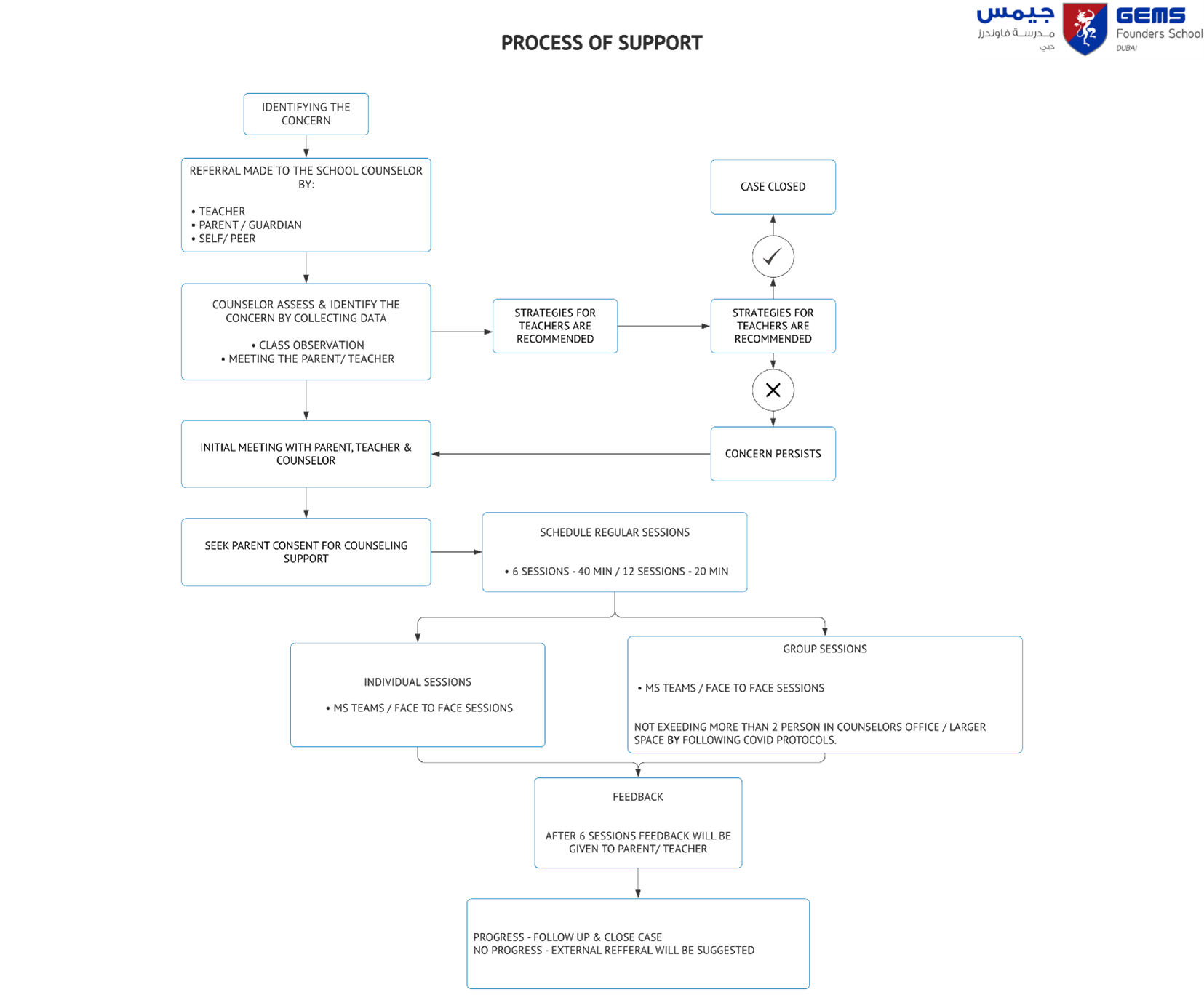 For all counseling related query and services, you can contact us on [email protected] or reach us at +97145195222
Click here for Parent Referral
or scan here for Parent Referral