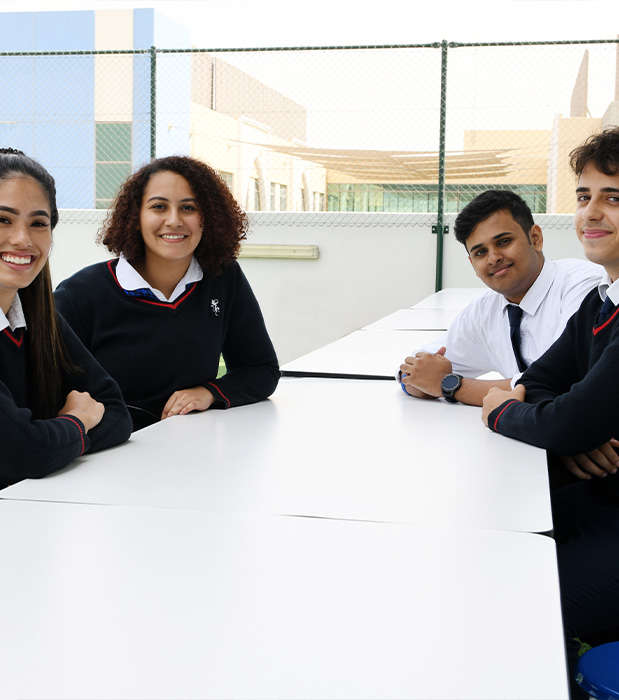 Admissions Process
How to begin your child's journey...
GEMS Founders School is an inclusive school. The GEMS vision for Inclusive Education is that we achieve excellence together by all students receiving the support they need to meaningfully belong to their school and wider community, feel valued for their contributions, engage purposefully in learning and experience academic, cultural, social and emotional success in a common learning environment.
At GEMS Founders School we welcome children with a range of learning preferences, including students of determination (students with special education needs and disabilities), students who are gifted and talented and students who are English Language Learners. Our staff are committed to educating all students in a common learning environment with similar-aged peers. At GEMS Founders School diversity is made visible as a strength, respectful relationships are continually enhanced and all children fully participate in learning through adjustments and teaching strategies tailored to meet the diverse range of learners reflected in wider society.
Please share full details of any special educational needs, individual education plans (IEPs) and any Educational Psychologist, Pediatric, or other specialist reports (e.g., Speech and Language or Occupational Therapy) if completed. Sharing educational history with GEMS Founders School prior to a place being offered is essential so that staff can ensure an appropriate assessment of educational need, educational plan and resourcing is in place. Admission is not conditional on the submission of a medical diagnosis and we have effective transition processes in place for all children.
Students are not refused admission based only on their experience of a special education need or disability (SEND) and we give sibling priority for admission to students who experience SEND. Staff follow KHDA guidance and procedures for scenarios where, very rarely, it may not be in the best interests of the child to be placed in GEMS Founders School. This information will be shared with the KHDA, following expected procedures.
STEP 1 – ONLINE APPLICATION
Select 'ENROL ONLINE' under the Admissions tab on the home page of GEMS FOUNDERS SCHOOL.
Complete the Online Student Enquiry & Registration. Once you complete the form, you will receive an acknowledgement with an online reference number and advice on the following steps.
STEP 2 – REGISTRATION
Parents should pay a Application Fee of 525 AED/- (inclusive of VAT) online or by visiting the school to initiate the registration.
This fee is:
-Refundable if the school does not offer the student a place.
-Non-refundable if the school offers the student a place but the student chooses not to take it.
-Not deductible from the total tuition fees to be paid if the student is offered and accepts a place
Parents are required to provide the listed documents to complete the application. Please note you are requested to upload the documents online. Due to the large volume of applications we receive daily, we will not be able to accept these documents through email.
Note: Payment of the Application fee does not guarantee your child a place at the school. Your application will only be completed once we have received all documentation and the required payment.
After this, our academic team will review the child's school reports or the child will be scheduled for an assessment/interview.
STEP 3 - ASSESSMENT
OBSERVATION - Foundation Stage 1 and 2 (FS1 and FS2)
WRITTEN ASSESSMENTS - Year 1 and Year 2
CAT4 or INTERVIEW or WRITTEN ASSESSMENTS (when required) or SCHOOL REPORT/CAT4 REVIEW - Year 3 to Year 13
Your child will be invited by the School Registrar for an assessment or for an interview (when appropriate and if necessary) via email notification or phone.
Results will be notified via email or by phone.
STEP 4 – ENROLMENT
Registrar will be sending offer letters to successful applicants, subject to seat availability.
Payment of Registration deposit which is 10% of the total tuition fees (non-refundable, non-transferrable) in cash or through credit card and is deductible from the tuition fees for the academic year. This is a non-refundable deposit.
After the above process, student is officially enrolled.
The tuition fee is payable at the beginning of each term and is payable in 3 terms.
Note: If a seat is not available, your child's application will be placed on a waitlist upon successful assessment until a seat becomes available. If you wish to withdraw your child from the waiting list, the 500 AED plus VAT application fees can be refunded. When a seat becomes available, you will be required to submit additional documents and pay 10% of the total tuition fees as registration deposit, which is adjusted with the tuition fee.
The offer for Year 12 will be conditional upon the receipt of the final Year 11 grades, which will be reviewed by Academic Team.
Required Documents:
*Passport (Copies for child, father and mother)
Residency visa page (Copies for child, father and mother - when available)
Copy of your child's birth certificate (in English or Arabic)
Recent passport size photographs of your child
*Copies of your child's last 2 school reports for all children entering Year 1 and Year 2 (in English); Last 2 years school reports and CAT 4 report for children entering Year 3 and above; Nursery report cards, if available, for children entering FS1 and FS2. 6 months validity medical, therapy report, if your child is with special educational needs.
Copy of your child's immunisation card
Emirates ID card back & front (Copies for child, father and mother- when available)
Original Emirates ID of child and both the parents (will be required if your child is accepted into GEMS Founders School-Dubai)
Attested transfer certificate or previous schools' leaving certificate. (copy will be required on or before your child's first day at the school, if your child is accepted into GEMS Founders School-Dubai)

Any student joining GFS in Year 10 and above (Grade 9 completed), from a different curriculum, other than UK curriculum, must present an equivalency certificate required from MOE (Ministry of Education) along with the attested Transfer Certificate.
The above supporting documents marked with asterisks (*) are the minimum mandatory requirement to process your application. Please go through our website to find an elaborate detail on our Admission Policy.
Please look into our Admission Policy for more information.
Transfer Certificate Guidelines:
Transfer certificate must be on official school letterhead and must contain the below information.
Full name of student
Date of birth
Enrolment date and the year group when the child first started at the current school
(i) Present class
(ii) Year/Grade completed

(iii) Year/Grade promoted to

School curriculum
Principal signature and school stamp
If transferred from a school within the GCC (GCC Countries- Saudi Arabia, Kuwait, Bahrain, Qatar, Oman) or from another UAE Emirate, transfer certificate must be attested by the Ministry of Education.
Children coming from countries other than USA, Australia, Canada, Western Europe, Japan and New Zealand should have the original Transfer Certificate (TC) attested by:
Educational Authorities (from country of TC origin),
Ministry of Foreign Affairs (from country of TC origin)
UAE Embassy (from country of TC origin).
For further information, contact our registrar on +971 4 519 5234.