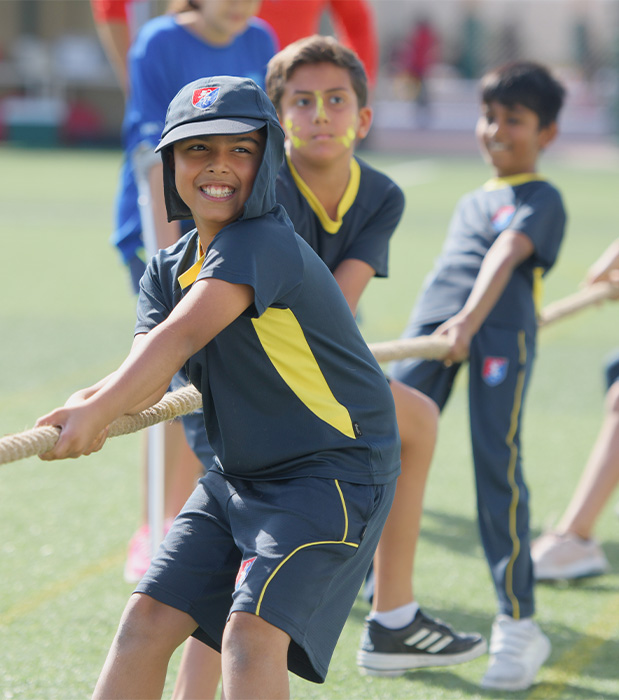 Extra Curricular Activities
Activities for students from FS2 to Y12
As a GEMS Education school, we are dedicated to offering our students a wide-range of opportunities to allow each student to develop their skills and pursue their individual interests. To facilitate this, we have both co-curricular and extra-curricular activities.
Interest-Based Activities
Our interest-based activities are provided as both co-curricular and extra-curricular activities. These activities give our students the chance to develop their skills in new and interesting fields, in addition to giving them the chance to learn through real-life experience.
These activities include:
charity events
subject-based weeks
visiting speakers
plays
pageants
debating competitions
spelling bees
elocution competitions
poetry and story recitation competitions
World Maths Day
assemblies
book sales
field trips
overseas trips
Sports Activities
We support all-round student development, and achieving in both individual and team-based sports activities teaches students how to work to reach a common goal, dedication, how to lead and camaraderie.
Co-curricular and extra-curricular sports activities include:
sports days
athletics
basketball
football
volleyball
throw ball
cricket
As a GEMS Founders school, we believe that students grow through learning. And, as global citizens, becoming well-rounded individuals will allow each student to pursue more opportunities in their future.
After School Activities
The after school activities at GFS has grown from year to year. Over 1000 students participated in each term, in up to 142 free after school activities. Some of these activities included the Model UN, a vast array of sports, arts and students leadership opportunities. Students were able to spend a term to develop a passion of theirs, be it photography or yoga and change again the following term or for free!
GFS staff remain committed to the ASA programme due to the amazing personal growth witnessed in so many of our students. We are also grateful to East Sports Management company for providing us with many more activities that were not found amongst our staff expertise to name a few: Ballet, Hip Hop and Robotics. We thank all the students for their enthusiasm and showing us how much fun they had on a weekly basis with their teachers and amongst their peers!