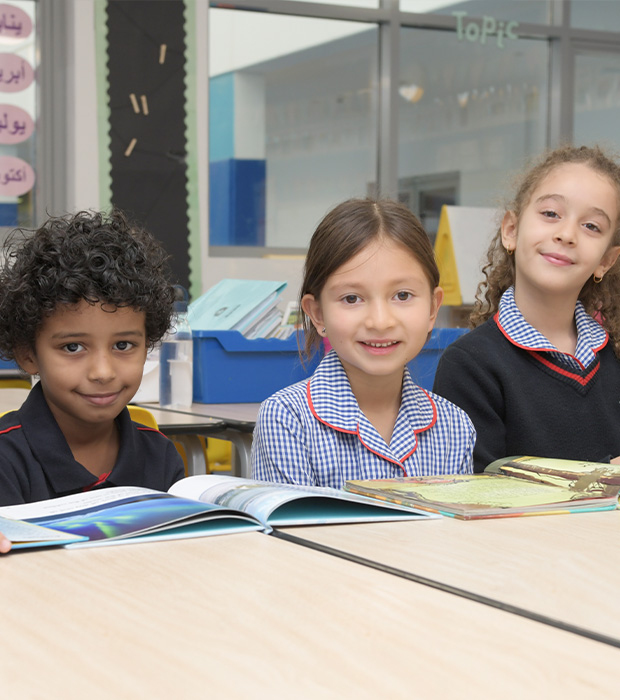 About Us
A warm welcome from GEMS Founders School - Dubai
GEMS Founders School, Dubai (GFS) opened its doors in September 2016 to over 1800 students from FS1 – Year 8. This is the most successful school opening in GEMS Education history in terms of enrolment. In September 2017, we welcomed over 3500 students and extended the school to Year 9. In September 2018, we opened our Year 10 and Year 12 (International GCSE and A Level curriculum) and started that year with 3800 children. In 2019, we reached the capacity of 4260 students in Phases 1 and 2 of our original building and in 2021 expanded to Phase 3 to provide additional facilities for extended curriculum options. We reached full capacity in 2022 with 6139 children from FS1 – Year 13. Since opening, we have established a positive learning environment for our children and staff following both the National Curriculum for England and UAE Ministry of Education curricular. As a British school overseas with over 100 nationalities, it is important that we value all of our languages and cultural understanding and use this as a catalyst to embrace the culture, history and beliefs of our student and staff body. We have been rated Good in two DSIB inspections, with the most recent one also recognising some Outstanding features. We are British Schools Overseas (BSO) accredited gaining Outstanding judgements in all standards, allowing us to offer the NQT, QTS and iPGCE programmes to our teachers through the TES Institute. GEMS Founders School, Dubai is truly unique and anyone who comes to work here has a wonderful opportunity to leave their mark. In line with our school vision, you will have the opportunity to Grow, Flourish and Succeed in everything you do at GFS.
If you would like to apply for admission for your child, please click here
Please browse our website to see what we offer our students and how a high standard of British education can shape their learning.
Our School Improvement Plan 2022 - 2025
Download our School Improvement Plan (EN+AR)